Local food that you must try when in Kerala
Written by Nayana Nair |
Famous for coconuts and the variety of spices that is prevalent in Kerala food such as curry leaves, tamarind, asafoetida, mustard seeds, chillies, nutmeg, cinnamon, pepper, cloves etc., the cuisine of Kerala stands out in its uniqueness as it produces ambrosial mouth-watering dishes. If you visit Kerala, prepare yourself for a gastronomic journey that will leave your palates bursting with zesty flavours!
Must try dishes
For those vegetarians out there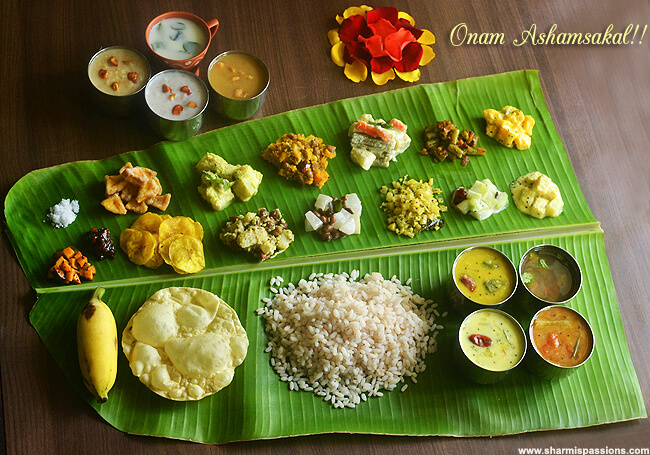 Sadya: Kerala Onam Sadya is one of the most famous dishes in South India. It's the heart and soul of Kerala cuisine with variations in different parts of the state. Served on a banana leaf with at least eight different vegetarian curries, banana chips, curd, pappadam, sharkara upperi(jackfruit chips) and pickle(mango and lime), Kerala sadya is the best example of homely food and a feast for vegetarians. It consists of rice served with curries called kootan such as sambhar, parippu(dal), olan, erissery, kootukari(chickpeas), thoran(cabbage and other vegetables), avial(a delicious blend of every imaginable vegetable), kaalan(mango and coconut milk), kichadi and tangy rasam. No sadya is complete without payasam, which is the traditional dessert. The best sadya's will have at least three payasams. The most famous ones include palada, parippu pradaman, ada pradhaman, chakka payasam, ari payasam to name a few.

Best time to have sadya: Onam and Vishu, the traditional festivals of Kerala.
Best places to have sadya: Any vegetarian restaurant! Weddings, temple festivals, birthday celebrations etc. in Kerala have sadya for lunch.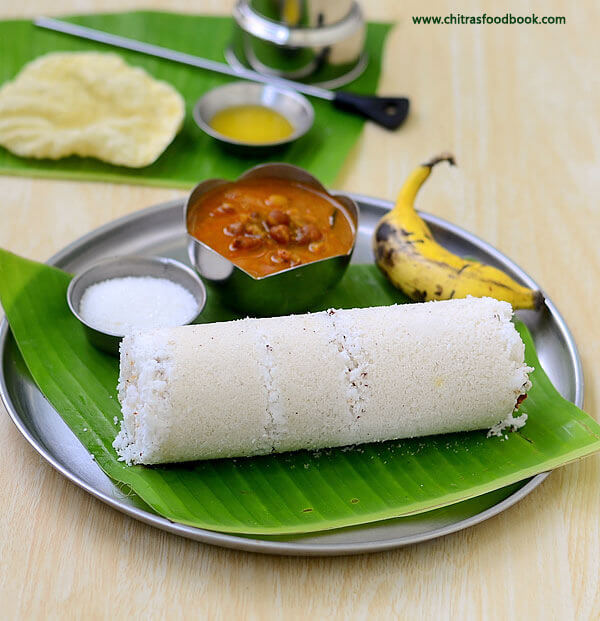 Puttu and Kadala curry: A very popular breakfast dish made primarily with rice and coconut, it is often served with black chickpeas called "kadala curry". Puttu also comes in several varieties. It can be made with wheat grain, tapioca or corn flour. This steamed cylindrical rice dish is often eaten with bananas or sugar.

Must visit restaurant: Dhe Puttu- Nh 47 Service Road | Between Lulu and Oberon, Kochi (Cochin)

Dosa, sambhar and chutney: For those North Indians out there, dosa is the first dish that comes to your mind when you think of South Indian food. This absolutely fantastic dish is not only pleasing to the eye, but also incredibly tasty! Dosa is the most common breakfast item in Kerala homes. With several varieties such as plain dosa, masala dosa, ghee roast, paper roast, etc. it is that dish which will leave you craving for more. Served with coconut chutney and sambhar, it is crispy, light and it is one of the World's 50 most delicious food items for good reason!

Idli sambhar: The best way to describe idli would be to call it the healthier version of dosa. It is mild in taste and thus sambhar, chutney or podi(a dry spice mixture) is absolutely necessary.

Appam and stew: Appam is a light, tasty dish popular in Christian households. It has a soft and thick centre and a paper thin outer crust. Serve it with creamy coconut gravy to bring out the best flavour.

There are several varieties of stew. Apart from traditional vegetable stew, try varathuaracha stew for great flavour!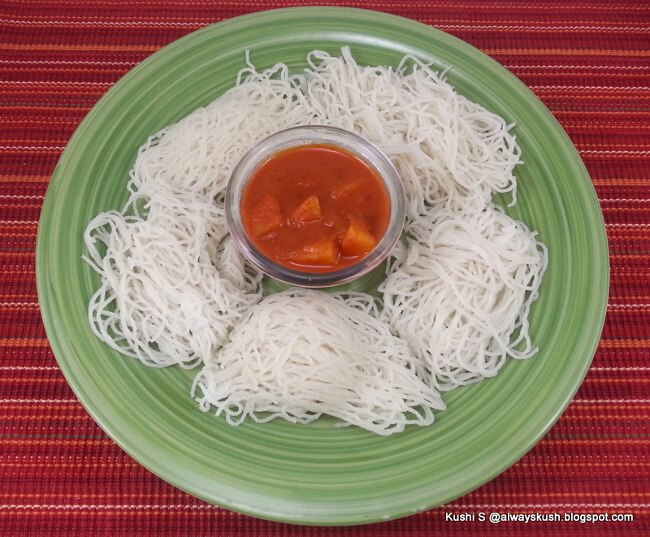 Idiyappam: Also called as noolappal or noolputtu is a type of rice noodles made which is a fantastic combination with stew, red chutney(made with onions and tomatoes), coconut palm sugar, jaggery or bananas.
Kerala parotta or Malabar parotta: South Indian flatbread is a proud dish for many Keralites because of the skill required to make the perfect parotta. It is abundantly available in tea stalls (chayakada) and toddy shops and can be served with mixed vegetable curry.
Kappa curry: Kerala is famous for tapioca! Served as a breakfast dish or as an evening snack it is an absolutely versatile traditional dish and a must try.

For those non-vegetarians out there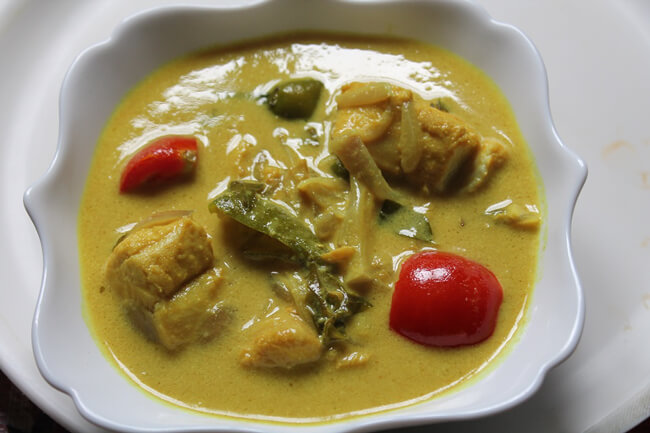 Fish molee: Absolutely sensational fish delicacy cooked in a coconut milk base with curry leaves and turmeric, it is the best example of Kerala seafood.
Kozhi porichathu-Trivandrum style: Tantalising deep fried chicken that will leave your palate bursting with flavour. It is served best with kerala parotta.
Idiyappam and motta curry: Idiyappam is the South India version of noodles. Soft, light and tasty rice noodles served with egg or meat curry.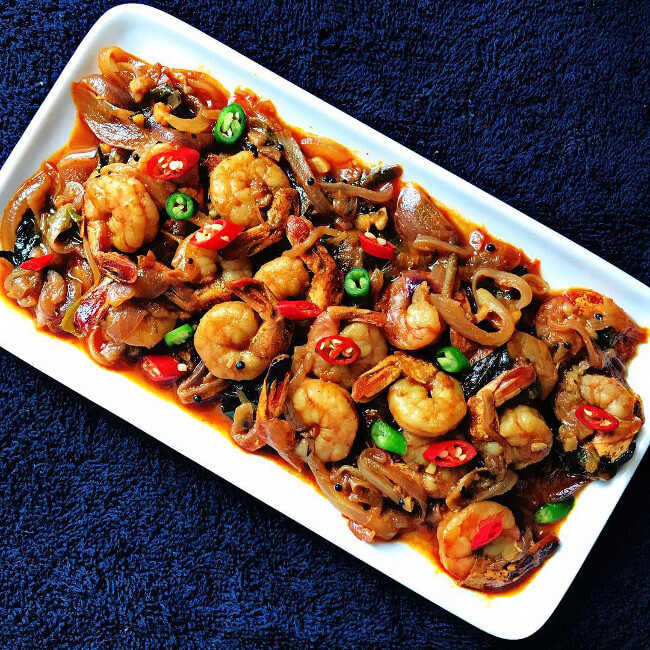 Kerala prawn curry: Just as the beaches of Kerala are lined with Chinese fishing nets, the seafood restaurants are incomplete without the Kerala style prawn curry. Coconut milk, curry leaves and a whole lot of spices make this an absolutely mouthwatering dish.
Karimeen polichathu: This aesthetically pleasing dish is one that is the best combination with rice for a seafood lover. Karimeen fish is pan fried with shallots, curry leaves and marinated with tonne of spices, wrapped in small banana leaves and served hot for lunch.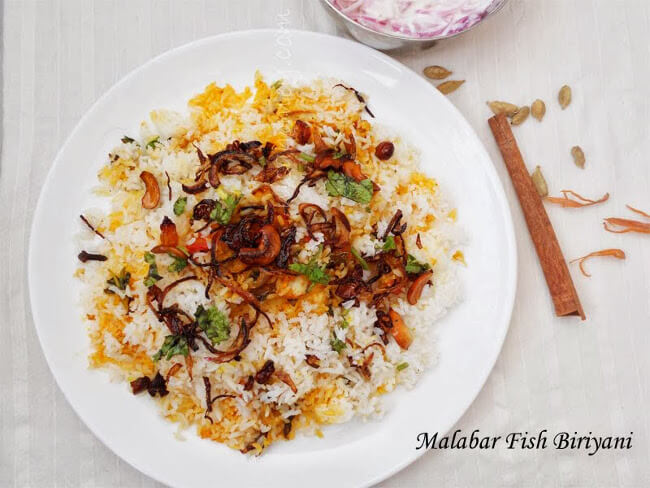 Malabari biriyani: A multi-flavoured, soulful dish that is enough to satiate the hunger to anyone having it, Malabari biriyani is different from any other biriyani. Usually made with chicken, egg or mutton it is a must try for all the biriyani lovers.
Mussel stir fry: A spicy dish served as an appetizer is a favourite among Kerala seafood lovers. It is known as kallumekkaya olathiyathu and it served best with kappa.
Erachi varutharacha curry: This is a mutton curry made with roasted coconut and spices. Coconut oil makes it tastier and it can be served with rice, puttu, appam or idiyappam.
Malabar parotta and naadan beef fry: Flatbread made of maida, it is soft and crispy and served best with naadan beef fry which consists of pieces of beef cooked with tomatoes, onions, garlic and several spices.
Chatti pathiri: It is a famous snack in Northern Kerala with fillings of meat. It can also have fillings of nuts and raisins and it is popular during the month of Ramzan.

Other items to try
Toddy: Also known as palm wine is an alcoholic beverage obtained from the sap of date palms, coconut palms etc. It is available all year around. Tourists often have a glass of toddy on houseboat rides.
Unniappam: Often served as prasad in temples, unniappam is a sweet dish made with jaggery, rice flour, bananas and fried coconut bits.
Pazhampori: Literally banana fry, pazhampori is a famous snack found in every tea stall in Kerala. A perfect snack with chai.
Must visit restaurants
Pavillion at Grand Hotel, MG Road, Kochi- famous for traditional Kerala food and was featured in NDTV Goodtimes in Rocky and Mayur's show "Highway on my Plate".
Paragon in Lulu Mall, Kochi
Dhe Puttu, Edapally, Kochi
Pai Dosa, MG Road, Kochi
The History Terrace and Grill, Fort Kochi
Sree Krishna Sweets(several outlets)
Mezban, Calicut
Bait, Kovalam
Aditi Restaurant, Thekkady
Tharavadu Family Restaurant, Kumarakom
Hotel Suprabhatham, Thiruvananthapuram
Saravana Bhavan, Munnar
---
---
Found this interesting? Would love to hear from you in the comments below...