Parvati Valley
The home to serenity and allure
27

want to visit

34

loved it

182

visited here
#mountains
#trekking
#nature
Welcome to Parvati Valley!
---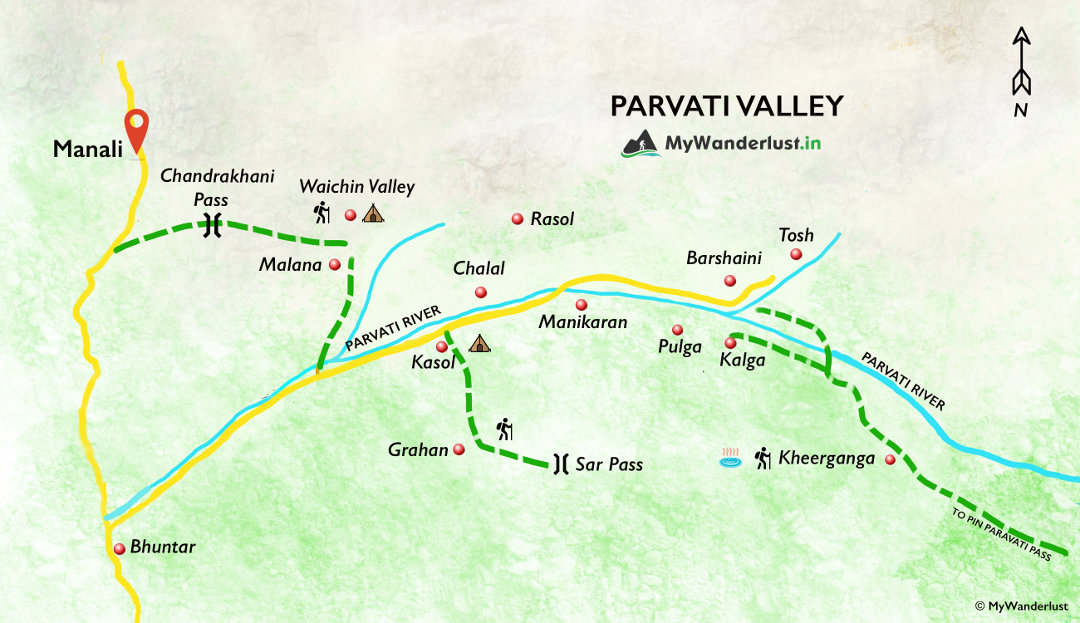 The brisk mountain air filled with delectable Israeli cuisine, the burning smell of herbs hustling in the air, the alluring view of milky waters of the Parvati river, fabulous snow capped mountains and the perfect feel of serenity, this is what welcomes you at the Parvati valley, one of the loveliest Himalayan valleys in India.
Must Visit Places
---
Nearby Destinations
---
Photos from albums of Parvati Valley
Loading Travel Photos to fuel your Wanderlust...
Within the aerial distance of:
Top places to see near Delhi
Parvati Valley Map
Welcome to Parvati valley!
---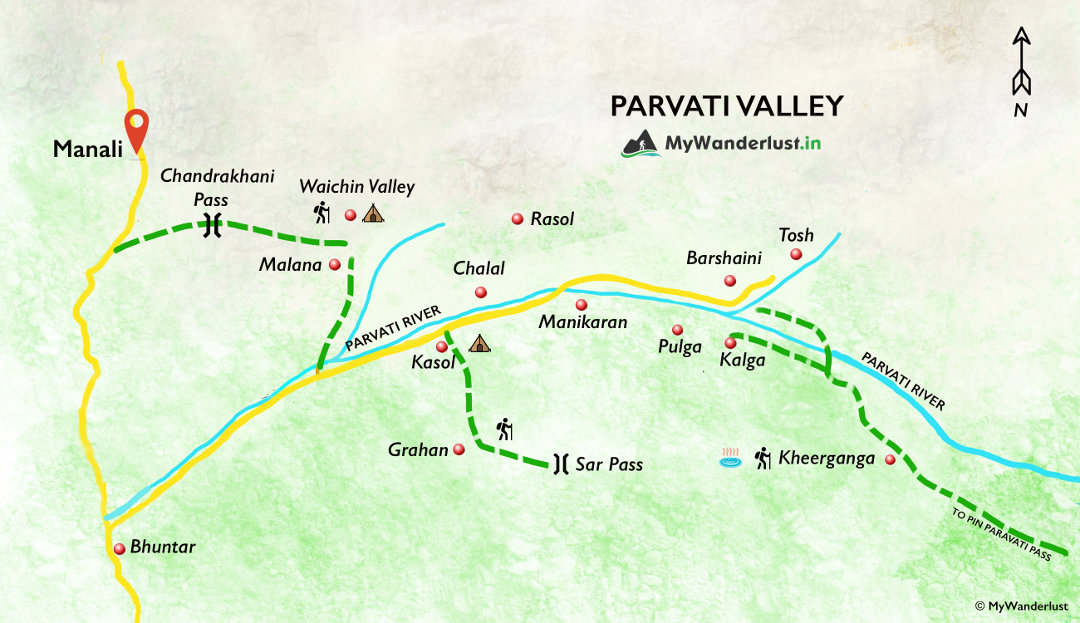 The brisk mountain air filled with delectable Israeli cuisine, the burning smell of herbs hustling in the air, the alluring view of milky waters of the Parvati river, fabulous snow capped mountains and the perfect feel of serenity, this is what welcomes you at the Parvati valley, one of the loveliest Himalayan valleys in India.
Until you step into the serene aura of Parvati Valley, an idea of the tranquility and peace this place offers, remains inconceivable.
Here is a comprehensive guide for you for a thrilling trip to the Parvati valley along with some offbeat places in the valley so that you can make the most of it.
How to reach
Bhuntar, right where you enter Parvati valley is the nearest airport. You can also reach Parvati valley via bus. The roads are good so you can hire a taxi, or self-drive to reach here if you like.
If you're coming via public transport, take any bus on the Delhi - Chandigarh - Manali route, and get down at Bhuntar which is the connecting bus stop. From Bhuntar you'll get a local bus for Kasol all the way to Barshaini.
Places to visit
KASOL
By far one of the most favored places in Himachal by backpackers, trekkers and explorers in vast numbers is this picturesque village in Kullu. Kasol is a small village situated along the banks of the river Parvati on the way between Bhuntar and Manikaran, about 30 Kms away from Bhuntar, majorly populated by the Israelis. This place is more than just a destination set amidst the serene beauty of nature or a budget friendly hotbed for adventures. Well known for catering the best experience of trekking, rafting, camping, sightseeing, parties or be it in the spiritual awakening. For those who want to taste scrumptious Israeli food, there are several Israeli cafes and restaurants to please their taste buds. It never tends to dishearten those who come here for ultimate gratification. It is the best hub to take a get away from your regular busy schedule and get your next ultimate eternal experience in Kasol.
TOSH
Situated at a height of about 2400mt above sea level in Kasol, surrounded by the snow crowned peaks, apple orchards, waterfalls and lush green plantations of Cannabis, at the far end of the Parvati valley lies the village of Tosh. The place untouched by modernization and fast paced life where Hash and trance abound. The distinct smell of Marijuana is one of the first things you'll experience on entering Tosh. Psychedelic and rave parties, getting high on the beats of the EDM, Cafes with Italian food, the finest treks including the Kheerganga trek, all these elements will leave your head go spinning. The best months to visit are from April to October because of the pleasant weather. If you want to have a sight of snow covered village, then you must visit here in the months of October- February. However, the cafes here provide you with Indian, Italian and European food but trying maggie with a cup of tea at such an altitude and chilling weather will really be a lifetime cherishing affair. There is a Jamadagni Rishi temple in the center of the village which opens annually only during the months of January or February. The veranda of the temple offers the most wondrous views of the snow-capped Himalayas. Ultimately this village has become a blissful hub for backpackers, making them fall in love with the place, rendering them with different kinds of highs.
MALANA
Parvati valley is known for holding a treasury of spellbinding places. Where there are various mainstream places we know about, there are several offbeat places too which are present silently in their glory. One such place is the ancient solitary village of Malana. Located at a height of 2,652mts on a narrow plateau to the north-east of Kullu valley, it is a village unique in its own ways correctly standing the fact of being "a village of Taboos". Still unaffected by the present day modernization, the village is mostly known for its stoner's culture. With the shadows of the peaks of Chanderkhani and Deo Tibba and Malana Nullah flowing through it, Malana is well-known for its unique age-old traditions and lifestyle. The village which grows the world's best Hashish is the famous secret about this place. Malana most prominent for producing Malana Cream, a unique strain of Cannabis Hashish, which has high oil content and an intensely fragrant aroma giving you a different and highest kind of the highs. Away from the city cultures this remote village with monotonous way of lifestyle holds one of the oldest standing Greek democracies of the world. People, having their own sets of beliefs, postulate themselves to be the descendants of Alexander. They believe that the mountains make its own sets of rules and refrain outsiders from using their local language Kanashi, their temples or sacred places as the outsiders are considered as Untouchables for them. Malana Fagli celebrated in the mid of February and Malana Shaun celebrated on 15th August gives true essence of the uniqueness in their cultures. So, all in all, this place got us hooked with its unique traditions and the art of producing world-class Hashish just by rubbing Cannabis leaves on the palms. So for all those travellers out there, if you have been here just go back again and for those who haven't been to this majestic land comm'n this is the time not just to travel but to explore and unravel it.
CHALAL
A 30-minutes casual awe-inspiring walk away from the crowd of Kasol through the trails covered with pine trees will lead you to this tiny beautiful village of Chalal. It truly retains its old world mountain village rustic charm also serving as a base for hike to Rasol. The backpackers and trekkers who come here to trek, chill under the mystical sky full of stars or have some hot Chai to cherish the sheer splendor of this scenic place have majorly contributed to the fan following of this place. The best time to visit here is in between the months of April-June. Trekking, Camping, partying, small cafes with outstanding vibes, tantalizing must try local cuisines including falafel, hummus, pita bread combined with the most admirable views, Chalal never disappoints anyone who comes here in search of adventure or peace.
PULGA
Located at an average height of about 9498 feet above the sea level, Pulga village in Himachal Pradesh is the perfect location for solo travellers. It takes around 2-2.5hrs drive from Kasol and a 3kms hike from Bharseni to reach Pulga. Amidst heavenly views of Himalayas, amazing tea plantations and apple orchards this place offers a perfect cozy setting to spend some time with nature and stay lost in one's solitude as you won't spot too many people here also the mobile networks and Wifi is weak due to altitude issues. Pulga is also famous for its hiking and trekking experiences. One of the most refreshing trek from here is the Kheerganga trek in the fairy forest of Deodar trees offering excellent views. If you want a break, pack your bags and get ready to find your soul at this place.
KALGA
This lesser known village beyond the settlement of Barshaini near Kasol is surely a traveller's delight with giving a feel of closeness to nature. With the sky almost kissing the snow- covered peaks and plentiful of alpine beauty the place offers most alluring getaway from the usual hustle and bustle of a village. The old houses present here are abandoned. Most of the houses here have turned into cheap comfy home stays allowing the travellers to sink in the beauty of the place completely. Like Pulga, Kalga is also the base for Kheerganga trek. Most of the land covered with greenery all around because of the apple plantation which is the main source of income here along with animal husbandry. So with atmospheric solitude, the breathtaking views it can prove really the best place to chill and enjoy the simplest things here while getting lost in nature.
GRAHAN
If you are planning to visit more such offbeat places of Parvati valley, a 10km hike to Grahan village, situated deep inside the forest to the north of Kasol, is a must on the list. It is a small village with a population of only 350 people living 50 houses along with some beautiful architecture. Summers and winters are the best seasons to visit this place. Accommodation here is limited to a handful of guesthouses run by locals which offer local Himachali food. With its tranquil sites and pure mountain air, Grahan is the starting point of the adventurous Sar Pass Trek. Despite offering the ultimate peace by rendering a complete disconnect to all the backpackers and travellers coming here, this place is still the road less travelled in the Parvati valley.

Nearby Places
Head out to Manali, the adventure capital of India, or embark on an adventurous trek via Pin Parvati pass ending at Mudh village of Spiti.




How to reach Parvati Valley
Parvati Valley doesn't have flight or train connectivity. But it can be reached via bus. It's also connected with road so you can hire a taxi, or self-drive to reach here if you like.
Reaching by Bus
---
Kullu ISBT (see
Kullu
) is the nearest major bus station, with buses to other cities. Kasol Bus Stand is a local bus stop with limited bus frequency.
Driving from major nearest cities/towns
---
From Manali to Parvati Valley, it is 69.7 kms and takes about 2 hrs on road. [see directions on Google ]
From Shimla to Parvati Valley, it is 223.3 kms and takes about 7 hrs on road. [see directions on Google ]
From Chandigarh to Parvati Valley, it is 284.5 kms and takes about 7 hrs on road. [see directions on Google ]
Reaching by Train
---
Chandigarh Railway Station (CDG) is the nearest major railway station.
Joginder Nagar Railway Station (JDNX) is a local train station nearby, with limited railway connectivity.
Reaching by Air
---
Chandigarh Airport (IXC) is the nearest major international airport.
Bhuntar Airport (KUU) is a small airport with limited flight routes.
Did this help?
Thanks for letting us know! Have more feedback?
Thank You! Your feedback has been noted.
Within the aerial distance of:
Top places to see near Delhi
Top travelers who've visited Parvati Valley:
Want to ask something to all travelers who have visited Parvati Valley? Ask a question