Parvati Valley
The home to serenity and allure
30

want to visit

35

loved it

199

visited here
#mountains
#trekking
#nature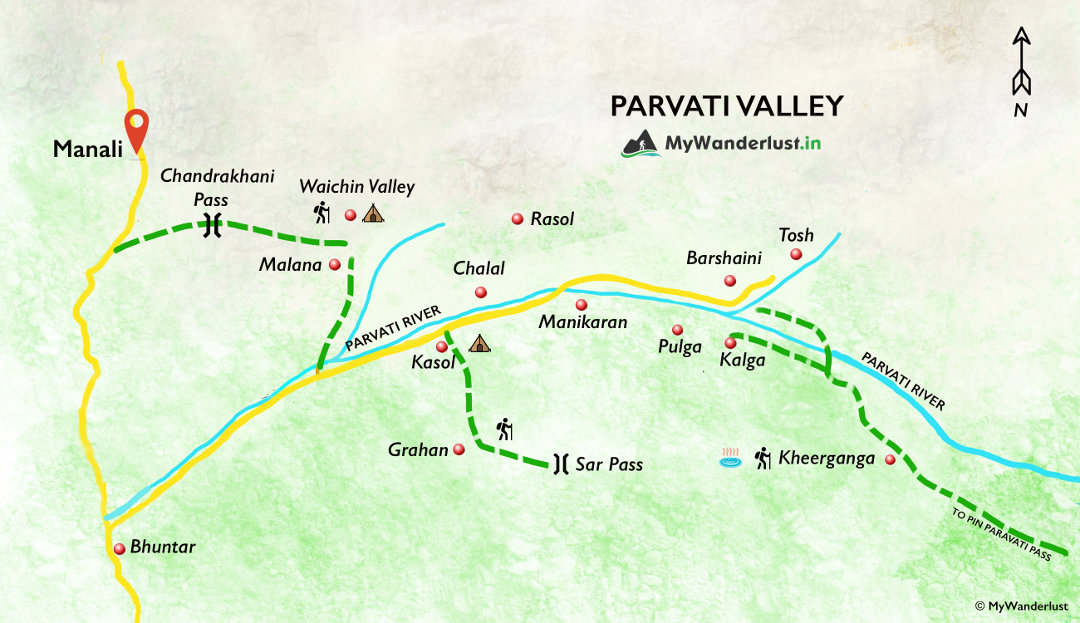 Welcome to Parvati Valley!
---
The brisk mountain air filled with delectable Israeli cuisine, the burning smell of herbs hustling in the air, the alluring view of milky waters of the Parvati river, fabulous snow capped mountains and the perfect feel of serenity, this is what welcomes you at the Parvati valley, one of the loveliest Himalayan valleys in India.
Until you step into the serene aura of Parvati Valley, an idea of the tranquility and peace this place offers, remains inconceivable.
Here is a comprehensive guide for you for a thrilling trip to the Parvati valley along with some offbeat places in the valley so that you can make the most of it.
How to reach
Bhuntar, right where you enter Parvati valley is the nearest airport. You can also reach Parvati valley via bus. The roads are good so you can hire a taxi, or self-drive to reach here if you like.
If you're coming via public transport, take any bus on the Delhi - Chandigarh - Manali route, and get down at Bhuntar which is the connecting bus stop. From Bhuntar you'll get a local bus for Kasol all the way to Barshaini.
Weather
Month by month
---
Jan
1° : 14°
Feb
2° : 15°
Mar
5° : 19°
Apr
9° : 25°
May
12° : 28°
Jun
15° : 30°
Jul
18° : 29°
Aug
18° : 28°
Sep
14° : 28°
Oct
8° : 25°
Nov
5° : 21°
Dec
3° : 17°

Min : Max Temperatures in ° Celsius
Photos from albums of Parvati Valley
Loading Travel Photos to fuel your Wanderlust...
Within the aerial distance of:
Top places to see near Delhi
Parvati Valley Map
Places to visit
---
Within the aerial distance of:
Top places to see near Delhi
Top travelers who've visited Parvati Valley:
Want to ask something to all travelers who have visited Parvati Valley? Ask a question
Experiences at Parvati Valley hosted by our reputed partners:
---
Did this help?
Thanks for letting us know! Have more feedback?
Thank You! Your feedback has been noted.