Goa
What does Goa offer other than drinking and partying?
I'm told that Goa is all about drinks and party. I don't really believe that. What else can I expect in Goa?
asked by Atul Goyal
4 Answers
---
Goa is not just about drinking. It offers a lot more.
- You can take a bicycle on rent and roam around the city and visit churches, was the most exciting part of my trip. If you don't want to make too much physical effort then bike or a jeep can also accomplish the goal of relaxing in the soothing environment.
- If you are a little bit into poker or casino games, then Goa has India's best Casinos to offer. It isn't an inexpensive deal. Advice: If you are playing from savings then never go with card, only cash.
- Nothing is more relaxing/chilling that taking a Shake/Beer in a shack on a beach.
- Goa offers a lot of water sports too.
- Goa has a lot of great dine out places.
---
Goa has a lot to offer, other than drinks and clubbing! I have been to Goa thrice amounting to about 4 weeks in total, so I guess I should be able to answer this well enough.
Goa has more than
30 beaches(Ref:https://www.holidify.com/blog/best-beaches-in-goa/). Basically you cannot really cover all of them. I would recommend going to the less crowded ones-arguably the better ones. It is totally worth the travel time since they are mostly on the outskirts. My favourite is Keri(Querim) Beach - It is really secluded, and the drive to Keri is really serene. Or you can go to candolim at around 12 in the night and hear the sound of the waves on (free) beds.
10 forts(Ref:http://www.goaholidayguide.com/forts/). I am not really a fan of forts, but i liked going to Chapora fort to watch the sun set. You can club that with spending time at Vagator bearch or wine and snacks at Thalasa(4.9 on zomato, a little towards the expensive side).
10 churches(Ref:https://www.thrillophilia.com/popular-churches-in-goa). Again, I am not a fan of Churches. In this case i haven't been to one, so i can't really suggest anything. Also south goa has beautiful Portuguese architecture all over the place.
A lot of people come to goa for Yoga and meditation. So there is obviously more to Goa than partying. Its just that most people do not such things on their agenda during their stay in Goa :)
---
Goa is not just a partying or drinking place. It's a traveller's paradise. With stunning beach views, amazing sunsets, marvelous sunrise (only one beach in entire Goa where you can witness this), a road trip from North Goa to South Goa are worth the trip. South Goa has particularly got beautiful roads covered with trees on both sides and a very soothing weather. It does not have much of the partying places as beaches are mostly private. You can enjoy your lunch at one of thw best places of Goa - Fisherman's Wharf with their most favourite drink Sangria. And there are Forts all around Goa - Chapora being the most famous.
---
If interested in nature and wildlife, there are quite a few places near by, which are interesting. Look up for birding, anshi forest (Kali tiger reserve), doodhsagar and dandeli.
Not the answer you're looking for? Browse other questions or ask your own question.
Ask Question
See more: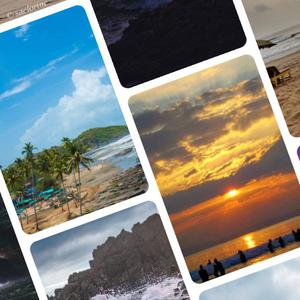 Did this page help?
Thanks for letting us know! Have more feedback?
Thank You! Your feedback has been noted.