Varanasi
What's the best thing you like about Varanasi?
asked by Community
2 Answers
---
varanasi is famous for many things in their different way. for photography purpose this is completely heaven. Travel here in Winter gave you such a good experience. Temprature comes to almost 4 degree Celcious during Early morning which we called Blue hour also. Dont miss : Morning Ganga Aarti at Assi Ghat & Evening Ganga Aarti at Dashaswamedh Ghat. after that you can visit Famous Vishwanath temple near Dashaswamedh Ghat. As i told You before that varanasi is heaven for photographers in all way. Portraits of Sadhus, Nagas and Localides. wanna experience street love??Then leave the ghats and came behind it which starts from very narrow road (Gliyaa).You can get Natural compositions and colours over there very easily. Enjoying part is there languages which called "Banarasi Language". Sarnath is also a famous place near varanasi.Monestry of Mahtma Budhh in a very large area.Dont forget to say Har Har Mahadev, this is replica of Hello here. Warm welcome in the city of shiva "Varanasi".
---
Varanasi: the city which is said to be older than history. Varanasi is famous for its culture, food, and the way of living of people ( alhadpan) .
Not the answer you're looking for? Browse other questions or ask your own question.
Ask Question
See more: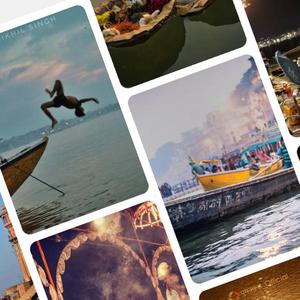 Did this page help?
Thanks for letting us know! Have more feedback?
Thank You! Your feedback has been noted.