Munnar
Are there any Do-It-Yourself treks in or around Munnar?
I've heard about the "packaged tour" trek in which you're accompanied by a guide and you walk through the tea gardens. Any real trek in the hills that you know of?
asked by Atul Goyal
3 Answers
---
One beautiful trek is from the Kurangani village to Top Station, Munnar. It's about 10 kms, not too difficult and offers fantastic views the hills in Munnar.
---
Yes. There are treks which u can do alone..
One is the meeshapulimala trek.. it can be done with the help of a guide or by ur own.. and also anamudi and kolukkumalai treks
---
One trek starts from Lions English Medium School near Old Munnar. We trekked for a couple of km's on that path(and then came back, since we were living in that tea estate only). There are a couple of paths that you can take there. Just choose any, if it wouldn't be allowed then someone would probably tell you :P

If you choose the path that I had taken, then there is a really huge rock in between the trek where you can relax and enjoy the views or just can keep walking and go into the forest(where you can find wild elements according to the locals, and they say its better to take a guide) or you can keep walking in the tea gardens. The choice is really yours. Another path leads back to the main road, so choose instinctively.
Not the answer you're looking for? Browse other questions or ask your own question.
Ask Question
See more: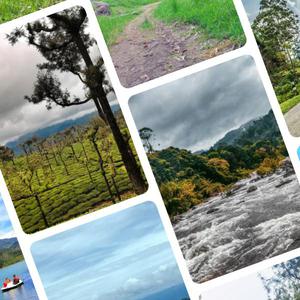 Did this page help?
Thanks for letting us know! Have more feedback?
Thank You! Your feedback has been noted.