India
What are some places for beginners to solo travel in India?
asked by Community
5 Answers
---
Hey,
I feel Sikkim is a really easy place to go along with as a solo traveller. Though the definations of a solo traveller change according to personal exeriences but sikkim makes it easy and cheap to get along the very famous places around here. Once you get the pulse of the place in a few days you are good to go.
Also Auroville, Pondicherry is a must to eb explored solo - mind it just solo. The one and only reason is beacuse if u travel solo u create an opputunity for yourself to meet endless likeminded creative poeple as that place is full of them. Stayed there for 6 months as i travelled solo and my experince tells me i learnt alot about humanity out there. Check itout online. you will b blown :)
Would recommend these two for a start :)
---
Solo travel will depend on your travel interest and place you belong to!
If you are from:
Delhi - Dharmashala & Mcleodgunj, Bir Billing, Kasol-Tosh, Varanasi and Manali
Bangalore - Coorg, Chikmanglur, Hampi and Gokarna
Mumbai/Pune - Pachgani, Mahabaleshwar, Matheran and Goa
Chennai - Wayanad, Pondicherry & Auroville, Kerela
To maximise your travel experience, you must engage in conversations with locals, eat popular food/cuisine, walk around that place and inspire others.
#Keeptraveling
---
Being a solo traveller, you can start with places that are easily accessible and can give you kick confidence. You can even start from trips to Rishikesh. It is not necessary that you trek in your first go. You can then gradually develop a taste for your travelling where you can cover treks with moderate difficulties such as Chandrashila or Triund. Apart from mountains, you can visit wildlife sanctuaries and national parks like Jim Corbett or Ranthambore. To see more on the cultural side, you can cover Jaisalmer, Rann or Jodhpur infact. On Southern part, you can visit Pondicherry, Hampi or Coorg. Just remember that traveling solo does not mean travelling to lone places. This does not limit your options.
---
Solo travel - in the sense it is most often meant to say that you're open to meet other travelers but not explicitly traveling in a fixed group of friends whom you know - is an amazing way to travel and have new experiences.
If you are interested in trekking, going in a group with one of the trek organizers could be a really rewarding experience. You get to be far from the usual busy daily life away from modern distractions, enjoy the natural beauty, make new friends, have fun and enlightening conversations and learn random new things. YHAI, Indiahikes, etc are a couple of organizations which have frequent groups going to different places and you'd easily find the best and updated info on their websites.
Another way to try this is going on your own but if this is your first experience, make sure you've read about your destination, weather, etc well so as not to end up in big trouble. Triund, Kheerganga, etc are some short yet beautiful treks which you could hike pretty much round the year. Avoid going in peak winters and peak monsoons if it's your first time though.
If you're not much excited by trekking, then finding places which have backpacker hostels would be another interesting way to travel. Zostel is one of the biggest brands having backpacker hostels at many places in India. Best thing about hostels that I like is you don't need to have any fixed plan in mind and you'll bump into someone or other and end up having a good time if you're just open to try out new experiences. It could range from discovering new places, new cuisines, cultural aspects of the place you're travelling to, and having rich conversations about life, universe and everything!
---
Not the answer you're looking for? Browse other questions or ask your own question.
Ask Question
See more: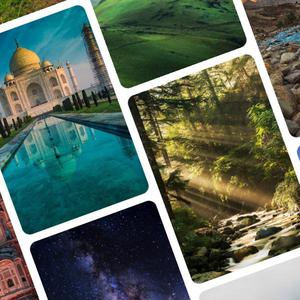 Did this page help?
Thanks for letting us know! Have more feedback?
Thank You! Your feedback has been noted.